CONJURE UP A NEW ADVENTURE!
UPDATED MASK POLICY 9/7/2021

After careful consideration and lots of input from our community we are adjusting our mask policy. All visitors inside the facility will need to wear a mask, regardless of vaccination status.

On weekdays, from 12p - 4pm, fully vaccinated visitors (2-weeks after final dose) may elect not to wear a mask while climbing, only AFTER voluntary proof of vaccination has been provided and approved by climbing staff.
We offer Bouldering, Auto Belay, Top Rope, Lead, Youth Teams, Instructional Classes, Fitness Room.
Book your session online for Bouldering or Roped climbing. Sessions are 2-hrs at a time. No deposit. Unlimited bookings daily.
Each session holds 25 bouldering spots and 40 roped climbing spots.
Face masks must be worn at all times in the facility.
Whether it's your very first time climbing or it's been awhile, we're glad you chose
Alchemy Climbing.
First things first,
Everyone entering the facility, whether they are climbing or not, will need to fill out a waiver. Parent / Guardian Must sign for Kids who are Under 18 and bring or send a photocopy of drivers license if not accompanying their child.
Next, determine what kind of climbing you want to do:
Roped climbing or Bouldering
Roped climbing




(climbing while attached to a line for protection)
Auto belays are automatic belay devices that takes up the slack as a climber ascends the climbing wall. When the climber reaches the top and lets go, or falls, the Auto Belay immediately arrests the fall and lets the climber descend to the ground safely and automatically.
​
Everyone will have an orientation before using. Kids under 14 will need an adult to clip them in.
Top rope climbing (or top roping) is a style in climbing in which the climber is securely attached to a rope which then passes up, through an anchor system at the top of the climb, and down to a belayer at the foot of the climb.
​
Belayers must be ages 14 & up and preform a test out in order to belay.
Lead climbing is a more advanced climbing style. It requires you to clip into protection as you climb, to protect you against a fall. You are setting the rope as you climb, nothing is already set up as with Top rope climbing.
​
Lead climbing/belaying test outs can only be done with an approved instructor. Booking is preferred.
​
TO BOOK A CLASS OR TEST OUT YOU MUST HAVE YOUR BOULDERING AND TOP ROPE PROFICIENCIES MET
​
unRoped climbing




(climbing without a line for protection)
Bouldering is climbing on low structures without the use of ropes, though usually with spotters and crash pads. This type of climbing usually has shorter sequences and requires more gymnastic type movement.
​
Warning: Every fall while bouldering results in a ground fall.
​
Kids under 14 must be a member, supervised by a member, or a member of USA Climbing.
Restricciones
Si tengo anémia severa ¿Puedo hacer el tratamiento?
---
Recuerda que si tienes algún problema a tu salud, es siempre mejor que veas a tu médico tratante además antes de comenzar cualquier tratamiento, aunque sea natural.

En cualquier tipo de anemia los tés se deben tomar en menos cantidades, o incluso se tratan de evitar
---
Si tengo dudas sobre mi salud y me siento mal ¿Puedo tomar los tés?
---
Te recomiendo siempre hacer un chequeo con tu médico y descartar enfermedades. En ningún caso porque los tés te harán mal, si no más bien porque es bueno tratar una enfermedad antes de hacer cualquier tratamiento para bajar de peso
¡Recuerda cuidar tu cuerpo ! Tu templo !
---
Tengo problemas a la Tiroide ¿Puedo tomar el Pack?
---
Si la tienes controlada, no hay problema.

Si no la tienes controlada, recomendarlo primero abordar ese problema y luego tomar los tés.
---
Si tengo Diabetes o Insulino Resistencia ¿Puedo tomar los Tés?
---
Si puedes, y de hecho te hará muy bien ya que controlaremos el azucar en la sangre.
---
---
Embarazadas
Si estoy embarazada ¿puedo tomar los tés?
---
Te recomiendo que no. Ideal es que durante el embarazo puedas cuidarte por otros métodos y asesorarte.
Luego que tengas a tu bebe y dejes de dar pecho, nos ponemos las pilas para bajar de peso
---
Si estoy en lactancia ¿puedo tomar los tés?
---
Depende mucho de cuantos meses/años tenga tu bebe y la cantidad de leche que le das. Lo idea es esperar por lo menos que tenga casi un año el bebe y que no le estés dando mucha cantidad de leche.

De todas maneras es mejor que me escribas para así ver tu caso y poder recomendarte la mejor opción.
---
---
El Pack
Terminando los 46 días ¿ Puedo seguir tomando los tés?
---
¡Claro! La idea es que logres llegar a tu peso ideal, por lo que el tratamiento se puede repetir sin problemas. ¡Con seguridad tus exámenes de sangre mejorarán notablemente!
Puedes repetir las veces que quieras el tratamiento , se venden para 46 días para que veas el efecto. Si pasas a una etapa de mantener el peso, lo ideal es seguir con el pack, pero la diferencia es que debes tomar menos cantidad de té, por lo que el mismo pack, te podrá durar el doble y podrás mezclarlo como quieras.
Los tés nos ayudarán a mantener el peso y que el metabolismo siga funcionando.
Recomiendo mantener también el consumo de aguas naturales y batidos
---
¿Ayuda complementar mi pack de té con las cápsulas de cochayuyo?
---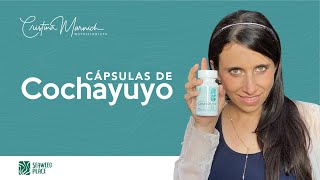 ¡Claro que si! De hecho, es una de las recomendaciones que entregamos siempre. Las cápsulas nos ayudarán a bajar el azúcar en la sangre y su fibra nos hará tener menos ansiedad, lo cual potencia el tratamiento.

En el video puedes conocer más de las cápsulas, sus beneficios además de como tomarlas.
---
Si soy vegana / vegetariana , etc : ¿Puedo tomar los tés?
---
¡Claro que si! La diferencia estará en que deberás cambiar los lácteos normales por otros díet o de origen vegetal. También tus proteínas serían de origen vegetal.
---
¿Como podré ver los videos?
---
Una vez que recibas el pack, este vendrá con las instrucciones de como acceder a todo el contenido de videos tutoriales + el recetario. Es muy fácil.
---
¿Como sé cual es el té adecuado para mí?
---
Al momento de comprar, tendrás que responder algunas preguntas como:
¿Eres hipertenso? ¿Tienes problemas cardiovasculares? ¿Tipo de digestión? Dependiendo de tus respuestas obtendrás el té adecuado para tí.
---
¿Tengo que hacer dieta con los té?
---
No, no existe una dieta o un plan estricto. Uno de los videos tutoriales que viene incluido en el Pack, está enfocado precisamente a darte consejos de nutrición.

Estos consejos son recomendaciones para que tu mismo comiences de a poco hacer los cambios en tu alimentación.
---
---